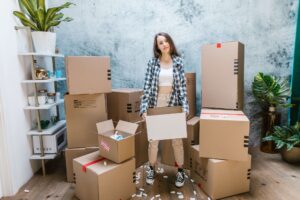 Three reasons why you should choose Best Movers when relocating to a new address in Dubai
Why choose Best Movers in Dubai? It's thrilling to move into a new house. It's true that the prospect of designing a new room and starting from scratch may be really exciting. The actual packing and moving process, on the other hand, is undeniably exhausting and stressful. Simply thinking of packing up boxes of belongings and moving those boxes to a new place might deflate one's enthusiasm. On a more positive side, the popularity of moving services has increased in recent years, making it simpler for consumers to obtain such services without breaking a sweat. Finding movers and packers in Dubai, Abu Dhabi, or anyplace else in the UAE has never been easier or more straightforward. So here is  Why choose Best Movers in Dubai ??.
What does it mean to make a wise moving decision?
In today's technologically evolved society, everyone is largely reliant on technology to facilitate transactions. Unique Home Movers is a trustworthy moving and packing business that specializes in a wide range of services. We compete clients' moving jobs by offering the most cost-effective quotes for your move. So now you get, Why choose Best Movers in Dubai ?
How can I receive a precise quotation from movers and packers?
Just share the photos of the list of items need relocating, collecting address, the address where the items will be delivered, and your desired pickup and delivery dates in order to receive an accurate quote. In order to receive the most accurate shifting price from best movers in Dubai, include all necessary details. Once alerted, our 24/7 customer service will contact you with the lowest possible moving quote. That's why also guide all of our customers about Why choose Best Movers in Dubai.
The repute of a moving company is one of the most crucial factors to consider when selecting a moving service. Because each relocation is unique, it's vital to hire movers that can work within the customer's timetable and specifications. At Unique home movers, we provide individualized services to assist their customers get the most out of their move. Professional moving firms will also provide the best level of service and customer care.
Customers may use our platform to connect with most reputable and genuine mover and packers  in Dubai, if they know Why choose Best Movers in Dubai . Feel free to ask us further details, and we will provide information about the services we provide, the works accomplished, and, most importantly, the feedback received from prior consumers. Unique home movers is here to make it easier for customers to find trustworthy movers and packers not only in Dubai, but throughout the UAE. We are well aware of how unpleasant and time-consuming shifting can be. Add to it the difficulties of finding individuals they can trust to help them move into their new house without having to worry about anything. Are you moving to a new location in Dubai soon? Go ahead and send your relocating job to our customer service. Whatsapp Us: https://wa.me/971525280886